Click HERE for the 2018 Internship Application Form.
Summer Internship Awards 2014
Congratulations to Meagan Osika from TCNJ and Simaza Ishak from William Paterson University for being awarded the NJWGSC Summer Internship Awards.
Megan Osika's internship is with Lambda Legal in NYC and Simaza Ishak's  internship is with WAFA(Women Against Family Abuse) House in Clifton, N.  Each Awardee received a scholarship of $1000.00.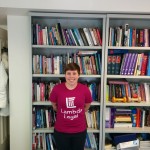 For the Summer, 2013 program, the New Jersey Women's and Gender Studies Consortium (NJWGSC) will support grant $1,000 each to Nicole Lipari and Alexis Longo and $500 each to Amanda Branick and Valerie, Amaral who complete a minimum 160 hour internship related to women's or gender studies.
Congratulations!
Nicole Lipari- Rider University
Alexis Longo- Montclair University
Amanda Branick- Monmouth University
Valerie Amaral- William Paterson University
The 2012 recipients of the New Jersey Women's and Gender Consortium Internship Awards were Alexandra Kosheleva of William Paterson University, Caroline Kitchener, of Princeton University, and Nathan Rodriguez, of Montclair State University.
Ms. Kosheleva's internship was at the Planned Parenthood of Metropolitan, New Jersey, where she was responsible for creating presentations about sexuality and sexual health to present to teen youth groups. In addition, Ms. Kosheleva visited events and explained to high schoolers the importance of safe sex and of getting tested. Ms. Kosheleva's primary objective was to explore this type of work and her possible place within it.
Ms. Kitchener traveled to Nanchang, China and completed her internship at the Jiangxi Normal University in Beijing, where she worked as a professor's assistant in the public speaking program. The goals of her internship were to better understand how Chinese culture predisposes women to communicate and to study Chinese communication styles. She taught two four-week courses on public speaking.
Mr. Rodriguez completed his internship at The Lesbian, Gay, Bisexual and Transgender Community Center in New York City. Mr. Rodriguez performed major donor research and coordinated correspondence with the center's young leaders in order to facilitate fundraising. In addition, he assisted in writing acknowledgement and solicitation letters. Through his work, his goal was to better understand the inner workings of a safe haven for LBGT community members.